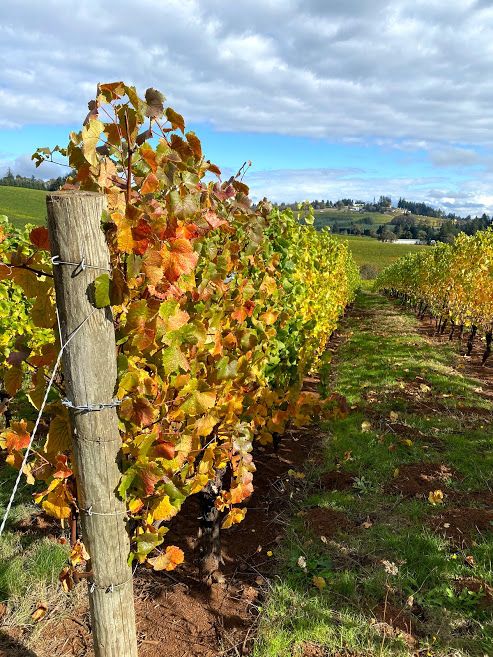 Fall is my favorite season; I love everything about it. I love the cooler weather, the changing leaves, the smell of wood burning and most of all, I love this time of year at wineries. It is when harvest is wrapping up, people are beginning to relax a bit, they are thinking about big bold reds with pots of soup or chili, and just plain enjoying life.
This weekend, our pod of three couples decided that visiting a couple of wineries would be a great way to celebrate Neal's birthday. We have not been doing much wine tasting. COVID has made it a little more challenging. We recently became share holder "owners" at Willamette Valley Vineyards so we decided that would be a great place to start our tasting weekend.
Willamette Valley Vineyards
Willamette Valley Vineyards sits high atop a hill overlooking I-5, Oregon's main north south freeway, but once you enter its gates, you forget about the highway and become immersed in beautiful views in every direction. Their tasting room is as inviting as any California destination and their wines are varied, consistent and delightful. COVID has made the space even more welcoming with tables spread out and a beautiful fire pit to greet you as you enter.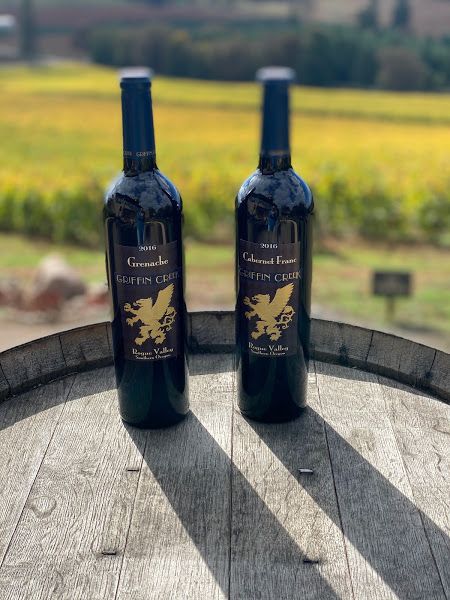 One of the things we really enjoy about WVV is their simple but elegant food options. They range from a great burger (Kobi beef of course) to vegetarian winter squash bowls and charcuterie boards. Each offering pairs well with their wines. On this day, we started with a bottle of bubbles to celebrate Neal's birthday. The 2016 Methode Champenoise Brute was a perfect starting point, with its fine bubbles and delicate structure. Cheers to Neal! We went on to try their full array of whites and reds and took home three of our favorites.
Sass Winery
Following lunch and tasting at WVV, we went onto Sass Winery. Where Willamette Valley Vineyards echoes a California style tasting experience, Sass is very much a boutique, Oregon style experience. Sitting alongside the barrels at picnic tables, we tasted several wines, mostly Pinot Noir, out of plastic cups while wrapped in blankets, shivering in our seats. We were familiar with the wines from our many visits to Walnut Ridge Vineyards. Walnut Ridge and Sass Winery are former partners. The partnership ended not long ago, and each winery developed its own label.
These two tasting experiences reminded us of the diversity of the Oregon wine experience. You can go from elegant and elaborate to simple and understated. We do not really prefer one over the other, and on days like last Saturday, it was a joy to do both.
Antiquum Farm
Sunday, we travelled solo to do two wine pick-ups a bit closer to home. Our first stop was Antiquum Farm. No matter how many wineries you have visited, no matter where you have travelled, Antiquum is the one unique winery you must add to your list.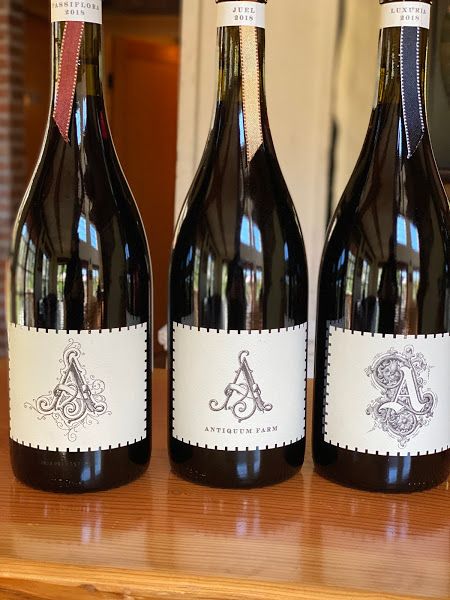 Where to begin… First, their tasting room is a rustic cabin built not so long ago with tradition in mind. The walls are stucco, the heavy wood beams are from trees on the property and the feel is old world. A beautiful fireplace warms the space and the comfy leather couches invite you to come and stay a while. Our host, Andrew, made our visit interesting and relaxing. He knows so much about wine and his passion for this wine was obvious.
As for the wine, the process is everything. I encourage you to visit their website and learn about owner Stephen Hagen and his obsession with farming the way it was meant to be, no machines, horse drawn tillers, herds of sheep, pigs, and geese to fertilize and tend to the vines. These are not biodynamic methods, and it is not "natural" wine, it is farming the way farming has been for centuries.
We tasted several wines on this, our second visit to the winery. We were there to pick up our futures of sparkling wine, Marion 2016. When I tasted it a few months earlier, I knew I had to have some for myself. We tasted the Marion again, I was right, I did need to have some for myself. We also tried the 2019 Daisy Pinot Gris. It was crisp and refreshing, I can already see us drinking it on the first warm day of spring.
Next, we tried to Aurosa Rose´. Summer seems like a long-forgotten memory as the temperatures begin to dip in Western Oregon, but this wine brings it back with just one sip. We then went on to try three Pinot Noirs; Juel, Passiflora and Luxuria. Each presented a unique flavor profile, none was better than the others, all were simply exquisite. To visit Antiquum, you will need a reservation. You will get the undivided attention of your host and have an unforgettable tasting experience.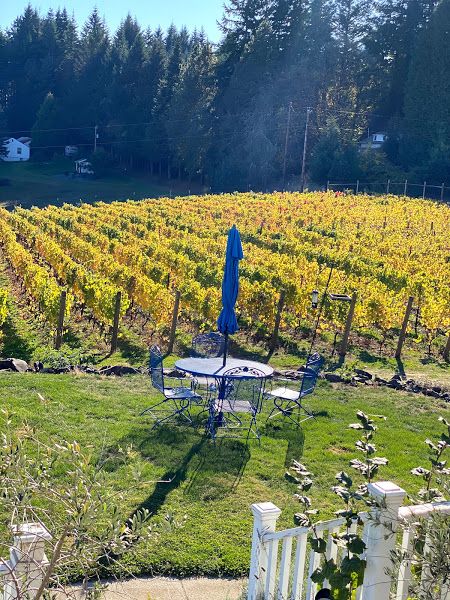 Bluebird Hill Cellars
Our final stop of the weekend was one of our favorite spots, Bluebird Hill Cellars. We have been visiting Bluebird Hill since the very first day their tasting room was open. We still tell the story of how its owner, Neil Shay, greeted us at the gate with his dog, Gus. He and Sue have become dear friends to us, and we look forward to every visit.
This visit was to pick up our wine club selections. Unlike most wine clubs, the member selects the wines. What a great way to give people what they want while maintaining an ongoing relationship with members. We selected three bottles of Syrah, two of the red blend and one of the new Pinots. We spent enough time there to enjoy brats and potato salad, with a special relish made from the last of the garden harvest. Neil and Sue planted a large garden this year, with all proceeds from the sale of the vegetables to go to local charities. Neil told us that they raised nearly $500. That describes these folks perfectly. From great wine to great causes, we love these folks, their wine, and their hearts.
COVID has changed many things. Wineries are not having big events, there are no harvest festivals, no Thanksgiving mayhem, but the important things remain. Harvest went on as usual, with hope that smoke has not caused any notable damage to the grapes. People are still gathering at wineries, but with reservations ahead of time and six feet between tables. Masks are required, pouring tastes looks different, but all in all, wine is the great equalizer. It brings us together in ways little else does.