It's been quite a year, hasn't it! We started the year off with a new granddaughter, Talia. She was born at the start of January in Arizona. Our drive home from Arizona was our first road trip of the new year and it was certainly a great one! We made so many wonderful stops along the way and took our time getting back to dreary, rainy Oregon.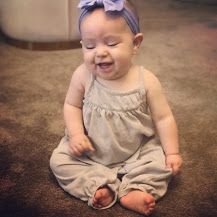 Couldn't resist sharing this photo
As part of that road trip, we created a new "road-trippin'" rule. We decided to switch drivers every 100 miles.  At first, Neal wasn't thrilled about the idea. He prefers to be the driver and gets a bit antsy when he's not. After a few rotations, however, he realized that there is a great benefit to giving up the wheel before you get too tired. It gave him time to nap, check his phone and just look out the window. He also researched great stops along the way while he was the passenger. That usually falls on me, so that was a great benefit!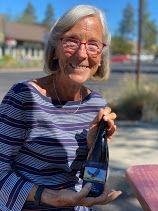 Breakfast with Lynne
Our most recent road trip was to Pocatello, Idaho to visit our good friend Jen who relocated there. The car was packed with all the essentials: food, fishing gear, camp chairs, and of course a case of wine! We headed out early Saturday morning with our first stop in Sisters, Oregon where we had a great breakfast at the Cottonwood Cafe and a visit with Jen's mom, Lynne. Lynne is taking every COVID precaution so it was great to be able to eat outdoors and visit with her.
Some of our trips are well structured, while others are more free wheeling. For this trip, we planned two overnight stays on our way to Pocatello. The first was in John Day, a very small town in central Oregon. We chose John Day so that we could spend some time at the John Day Fossil Beds, particularly to see the Painted Hills. Nature did not disappoint! This spectacular natural wonder can be seen in just a few hours, but they will be unforgettable hours for sure! The park is well laid out with a single road in that has several short walks (can't even call them hikes) along the way to get the best views. The weather was hot, the sun was bright and the sites were unforgettable.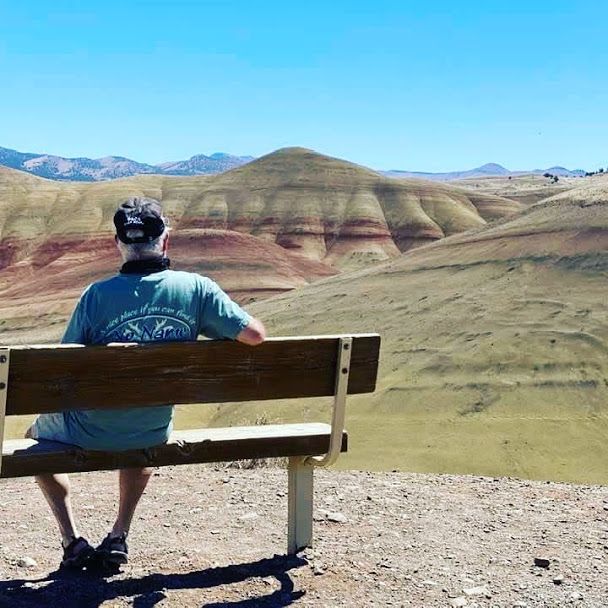 A beautiful view of the Painted Hills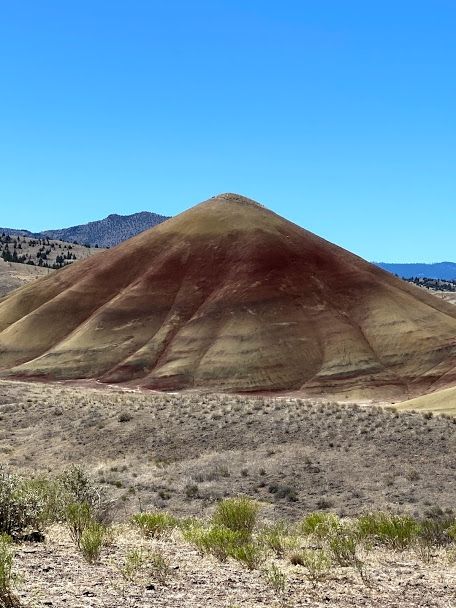 Photos don't do the Painted Hills justice
After we spent a few hours at the Painted Hills, we headed for the town of John Day. This was a first motel stay since the beginning of the COVID outbreak and I was admittedly a bit nervous. We were so happy to see the precautions the Best Western was taking, from a lobby set up for socially distancing to spotlessly clean rooms. There are a few cute little restaurants in John Day. We had a nice dinner and walked around for a short while before settling in.
Day two of the road trip was a straight shot to Boise. I spent a day or two in Boise many years ago and remember it as the cleaning city I had ever seen, and it still is! When people ask us what we did in Boise, our answer is a simple one, we ate.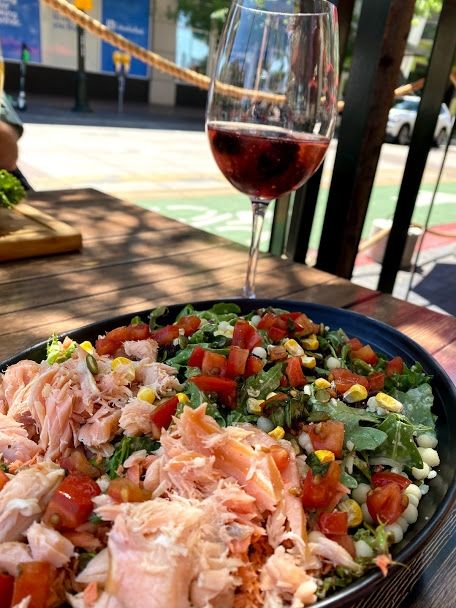 In house smoked Salmon salad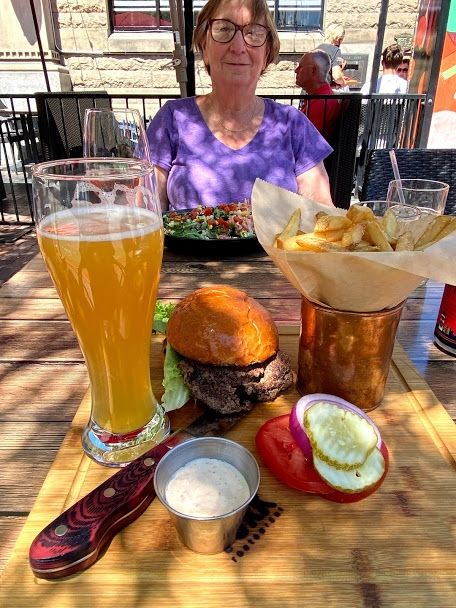 This dining tour began with lunch at Fork. Fork is located in the heart of the dining district in downtown Boise. It is located in an old building with plenty of outdoor seating. The weather was perfect for an outdoor lunch. Neal ate an awesome burger, I had an unforgettable salad, topped with smoked salmon, smoked in house. We walked around and then, because of the heat, headed back to the hotel for a much needed nap.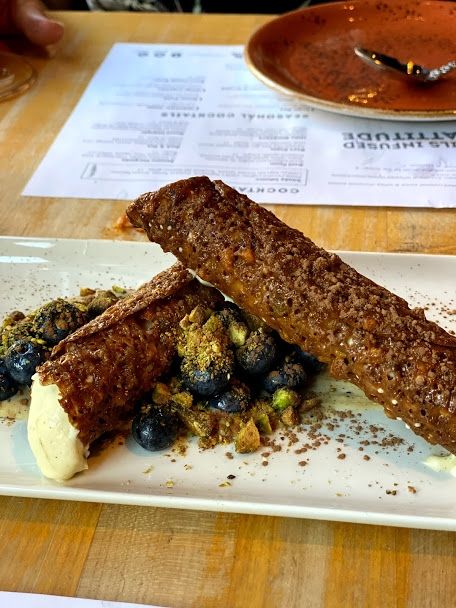 A highlight of our Boise dining tour
Round two of Boise dining was dinner at Alavita, Fork's sister restaurant. We had a lovely dinner there, along with great views of the activities going on outside, from a man worried about his Maserati to a guy trying on a girl's bra. Dinner and a show!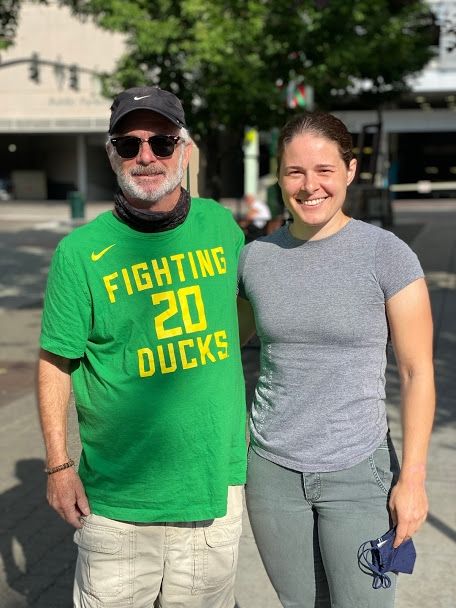 A quick visit with an old young friend
The next morning, we met up with an old friend of Neal's for breakfast at Goldy's Breakfast Bistro. I told you it was all food in Boise! What a great breakfast and an even better reunion with Kirsten. She is the epitome of motivation and determination, already a commercial pilot at age 26.
Back to the 100 mile rule for road trips. Our final stretch was a short ride from Boise to Pocatello, a bit over 200 miles. I was the driver to start the day, and then Neal brought us into Pokie. The drive, the scenery, the views were all just lovely. We had one final stop on our way at Shoshone Falls, an unforgettable site in the middle of Twin Falls. We turned a corner and were stunned at the view in front of us.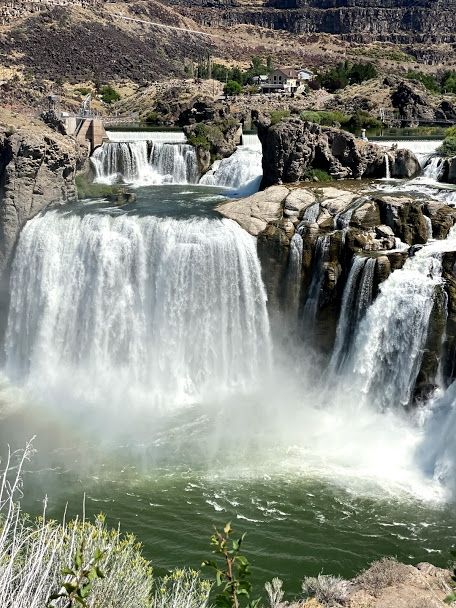 An unforgettable stop along the way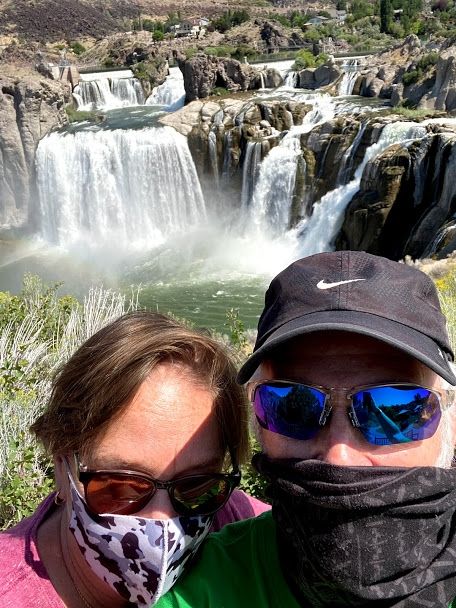 Here we are at Shoshone Falls
This was an amazing trip, so amazing that there will be a part 2 to this post. Stay tuned!