It wasn't long ago that Eugene held the reins for winery related tasting rooms. It seemed that every week a new urban tasting room was opening in and around downtown Eugene, but that's all changing with the addition of the Iris Vineyards Wine Bar at 322 Main st. in Springfield.
Homer Simpson would be thrilled to see what's happening on that stretch of Main St. Along with restaurants, bars, breweries and coffee shops, Iris is giving folks another reason to venture across the river to Springfield. Iris is featuring their exceptional selection of estate wines, inhouse craft winebased cocktails and small bites. Isn't it time to try a wine based negroni, manhattan or gin and tonic?
From the moment you enter this cozy space, you will feel at home. The greeting you get from the staff will tell you that you are in the right place. Manager MJ lights up the space with her effervescent personality. The exposed brick and wood framing provide a speak-easy feel and the furnishings are a modern contrast to that.
The Lorraine Valley, at the southern end of the Willamette Valley, is the home of Iris Vineyards where Richard Boyles and his wife Pamela Frye have a home atop the hill overlooking more than 800 acres of reforested hills and 35 acres of grapevines. The property borders the more well known King Estate but  certainly is not overshadowed by its neighbor. The elevation of this property ranges from 800 to 1,100 feet and is ideal for growing the full range of traditional Willamette Valley grapes. Until just a few years ago, tastings were available in the tasting room across the patio from the Boyles' home, but the pandemic changed that. The former tasting room is now an elegant retreat for travellers. You can find information on the home away from home on the usual home sharing sites.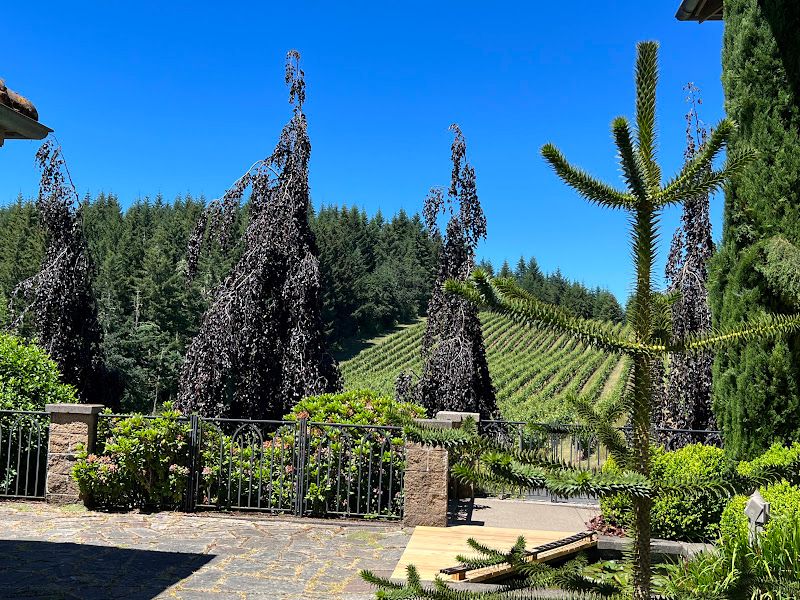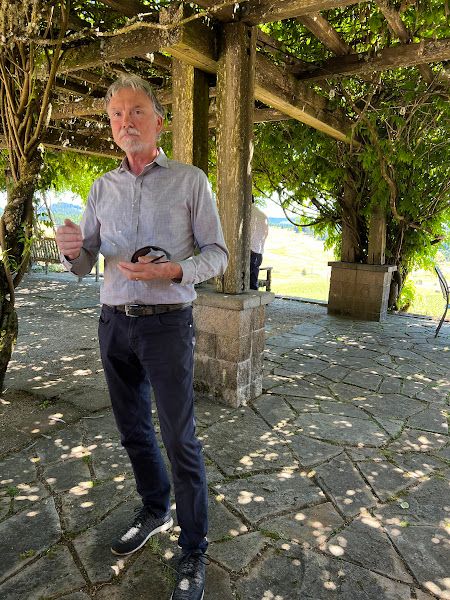 Aaron Lieberman is the winemaker whose sophisticated touch creates an award winning selection of wines. During our visit, we tasting through the Iris selection, starting with the Iris Brut, a non-vintage sparkling wine first produced in 2019. This wine was bright and bubbly, perfect for a summer afternoon. The 2020 pinot gris is an estate grown wine that won best of show at the McMinnville Wine Classic. Pinot gris is the number one white grape and number two overall grape grown in Oregon and this wine is a fine example of the success of this grape.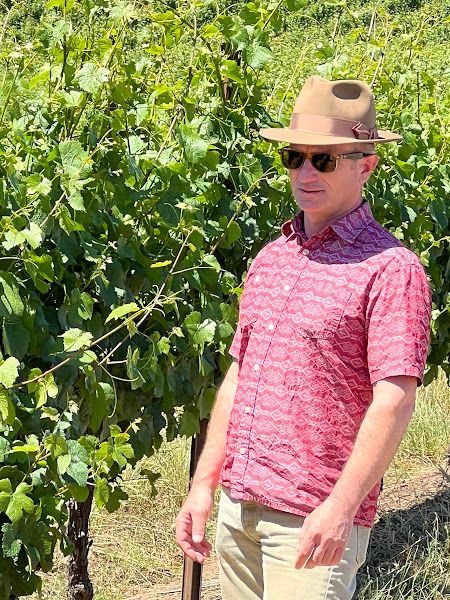 The 2016 Chalice Chardonnay, named for the vineyard's unique chalice shape,  is another example of estate grown wine. The vineyard has about 3 acres of chardonnay planted and produces between 100 and 500 cases annually depending on conditions. This chardonnay is the most awarded wine of the vineyard and lives up to its praise. There is a hint of oak without the overpowering "Anything but Chardonnay" butter, it is crisp and refreshing and can pair well with almost anything.
2020 was a difficult year for vineyards and winemakers. Smoke covered the valley for a long portion of the summer and many grapes could not withstand the impact. Iris was among many vineyards that did not harvest because of the smoke. Their 2020 Pinot Noir was made exclusively from sourced grapes. They produced 4,000 cases and, with the expertise of winemaker Aaron Lieberman, the wine does not disappoint.
The 2019 House Call is a wonderful Bordeaux blend with cab franc,  merlot and  malbec, all from the Rogue Valley. This wine stands out among red blends for its concentrated flavors, balance and delicate touch. It is a perfect food wine!
Along with its award winning wine selection, Iris is making a name for itself with cocktails that are more than just wine cocktails. They are making wines that take on the flavors of gin and bourbon. You have to try them to understand! The wine based negroni, for example, is described as "a beautiful ruby colored, gin flavored wine with a menagerie of complex flavors." The Manhattan features toasted chardonnay infused with oak, evocative of bourbon. The wine based gin and tonic is simple yet refreshing with gin flavored wine, Tree Fever tonic water and topped with a lime. These cocktails are an interesting and exciting new take on the cocktail craze.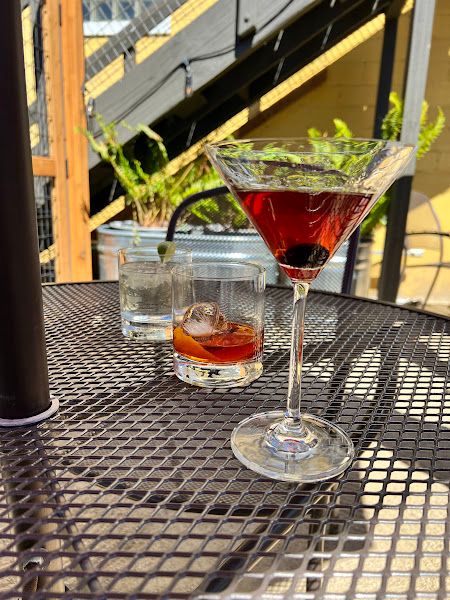 The Iris Vineyards Wine Bar in downtown Springfield is a great addition to the burgeoning food and beverage scene. The stylish tasting room and patio seating are calling your name, visit them at 323 Main St, Springfield. They are open Thursday - Sunday, 11:30am-8pm. Along with wine and cocktails, Iris offers beautiful charcuterie boards and other tasty bites.